Welcome to READS!
Reference and Adult Services Section
---
READS Award of Excellence 2022 Recipient
Congratulations to Courtney Vashaw!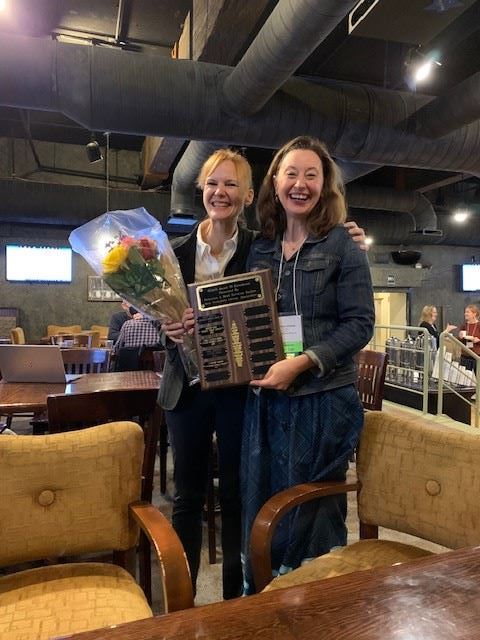 Congratulations to Courtney Vashaw (right), from the Whitefield Public Library, on being named this year's READS Award of Excellence recipient!
This award was presented at the READS Annual Business Meeting at the NELA/NHLA Joint Conference by READS Past President Kersten Matera (left).
Thank you for all that you do, Courtney!
---
READS-to-Go: Tips & Tricks
Try a READS-To-Go Kit for your book groups this Fall!
Borrowing a kit couldn't be easier. For more information and to learn READS-To-Go tips, check out the "KitKeeper Made Easy" instructions, the Detailed Documentation instructions, or watch READS To-Go-Chair, Brianna Hemmah, in the "Kitkeeper Overview" video. With so many new kits to choose from, you'll be sure to find your next book group's favorite read! To browse READS-To-Go Kits and to make a kit reservation, click here.
If you have any questions or feedback please contact the NH KitKeeper team at nhkitkeeper@gmail.com or by phone at the Laconia Public Library (603-524-4775) or Hooksett Public Library (603-485-6092).
---
Call for Submissions: READS Repository
Help us grow the READS Repository with your Summer Reading content!
We've all been busy preparing for this year's Summer Reading Program, so why not share your hard work with your fellow NH librarians. Whether you've made fun posters and bookmarks to social media posts and programming content, the READS Repository is the place to share what your library has coming up for this Summer.
The READS Repository is a publicly accessible Google Drive featuring Programming, Social Media, and Technical Training resources, plus SO MUCH MORE, submitted from libraries across the state. This database is a living organism administrated by the READS Vice President, and will house everything from guidelines for virtual programming, to fun reading-themed memes for your social media pages. Anyone who has created an Adult or Reference Service related document is encouraged to share it on this platform!
Submission couldn't be easier:
To view the READS Repository and get ideas for your own library, click here!
---
Board Members and Committee Chairs
To find out more about READS, please feel free to contact any of the members of the executive board.
President 2022-2023:
Natalie Moser, Laconia Public Library
(603) 524-4775
nmoser@laconialibrary.org
Vice President/President-elect 2022-2023:
Sue Harmon, Manchester City Library
(603) 624-6550
sharmon@manchesternh.gov
Past President/Award of Excellence 2022-2023:
Kersten Matera, Nashua Public Library
(603) 589-4647
Kersten.Matera@nashualibrary.org
Secretary 2022-2024:
Matthew Gunby, Meredith Public Library
(603) 279-4303
matthew@meredithlibrary.org
Treasurer 2021-2023:
Laura Pezone, Newbury Public Library
(603) 763-5803
assistantdirector@newburynhlibrary.net
Membership 2022-Present:
Liz Ryan, Derry Public Library
(603) 432-6140
lizr@derrypl.org
Programming 2017-Present:
Eileen Gilbert, Belmont Public Library
(603) 267-8331
belmontpl.director@gmail.com
Public Relations 2021-Present:
Jane Martina, Wadleigh Memorial Library
(603) 249-0645
jmartina@wadleighlibrary.org
READS-To-Go 2019-Present:
Brianna Hemmah, Laconia Public Library
(603) 524-4775
bhemmah@laconialibrary.org
Website Coordinator 2019-Present:
Alexa Moore, Amherst Town Library
(603) 673-2288
amoore@amherstlibrary.org
---